Fun, fun, fun, hot & packed and FUN! Where do we even start with all the FUN we had with you at the show?! This weeks gig took us to the Cue Club of Wisconsin in Waukesha. The night started off with a sound check that included an instrument switch-a-roo. Tell you what, each of us has a talent and we should really just stick to our own instruments lol.  Check out the recap video of the show link below to see why! Plus we had a funny comment from a fan that wanted a refund if that's how we were gonna sound. Ha! 
Anyway…. ON TO THE SHOW! There were plenty of birthdays in the house and plenty of people to help celebrate those birthdays. And speaking of the plenty of people part, we were definitely at a capacity crowd which is why we stated above about the hot & packed part. That didn't seem to bother anyone though. We had fun watching you guys dance and have fun. 
Now the night was not without a few "technical difficulties". And by that we mean a couple of things… The kabuki curtain came down early (oops!) and it was not our best playing wise. We REALLY pride ourselves on playing a tight and well-rehearsed show.  Frank had some clams. That's normal for him though. :P Flap had some stink notes. That too is normal for him. :P Andy sang perfect Spanish, yet he's not "fluent" in Spanish. And Dave wasn't feeling his best. Could any of you REALLY tell though?! Could you?!
All in all, the night was great. Thank you to the Cue Club of Wisconsin for having us yet again. And THANK YOU to each and every one of you for showing up in force. HOT, HOT, HOT, FUN & PACKED, and HOT! (See what we did there?!) 
See ya in December when we resume our shows! We needed a little break to rest up and finish learning some new songs for you! ROCK ON PEOPLE. ROCK ON!
FB Photos of the Show: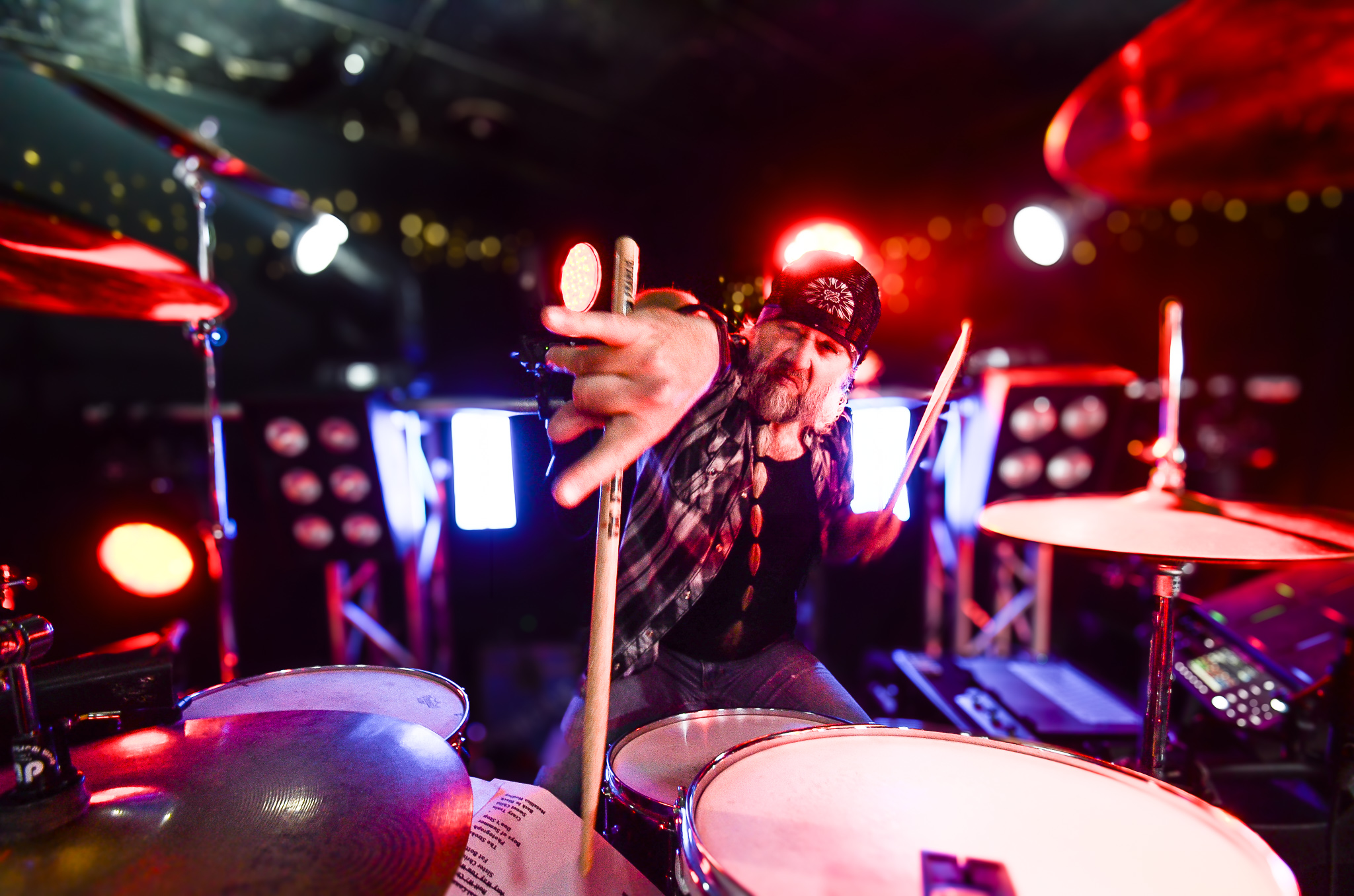 Sound/Production: Breezy Point Sound & Light Co.
Photography/Videography: Amanda Trash
Merchandise: Amanda Trash
Stagetechs: Jimbo & Vinnie
SETLIST:
Turn Up The Radio -

Autograph

You Give Love A Bad Name -

Bon Jovi

Animal -

Def Leppard

Rag Doll -

Aerosmith

Here I Go Again -

Whitesnake

Sweet Emotion/Dude Looks Like a Lady -

Aerosmith

Another One Bites The Dust -

Queen

My Kinda Lover -

Billy Squire

No More Mister Nice Guy -

Alice Cooper

I Love Rock N' Roll -

Joan Jett

Let's Get Rocked -

Def Leppard 

Runnin' With The Devil -

Van Halen 

Born To Be My Baby -

Bon Jovi

Home Sweet Home -

Motley Crue

Talk Dirty To Me -

Poison

The Flame -

Cheap Trick

Rebel Yell -

Billy Idol
ANDY ACOUSTIC: Dead or Alive - Bon Jovi
                      Summer of '69 - Bryan Adams
La Bamba -

Ritchie Valens

Take It On The Run -

REO Speedwagon

Tush -

ZZ Top

Nothing But A Good Time -

Poison

Pour Some Sugar On Me -

Def Leppard

Living On A Prayer -

Bon Jovi

Separate Ways -

Journey

Jump -

Van Halen

Dr. Feelgood -

Motley Crue

Girls, Girls,Girls -

Motley Crue

The Stroke -

Billy Squire

Photograph -

Def Leppard

Boys Of Summer -

Don Henley

Don't Stop Believing -

Journey

Crazy Train -

Ozzy Osbourne

Back In Black -

AC/DC

Metallica Medley -

Metallica