Greeting Cherry Pie family and friends!
Friday was a perfect day weather wise and the lume of a show in western Wisconsin lit our path as we made the 3+ hour trek out to Prairie Du Chien in our own vehicles. No Cherry Pie tour bus for these guys. Where the heck would we even park that thing if we did have one anyway?! Dave and Frankie car pool because they live 3 miles apart, so that makes sense. Andy rides solo and talks the whole way to both himself and whoever else will listen to him tell stories.  Flap one up'ed us all and showed up in his awesome camper with his wife and 14 week old puppy in tow. So we guess that counts as a "car pool/tour bus?" More of a Cherry Pie train perhaps? Nonetheless, all arrived, well, safe and ready to get to work.
Now tonight was a bit different. No techs, no extra help. Nothing. So the task was placed upon us to grab pics and video with our trusty smart phones and to set up the show ourselves.  Sometimes the crew needs off and tonight was one of those nights. Load in was easy and stage set up went off without a hitch. Fast forward to show time…
The moon was out, the temperature was perfect, and the people in Prairie Du Chien were ready to ROCK! 200-ish Pie fans (mostly new and unfamiliar to us) packed The Blackhawk outdoor courtyard to listen to us play. There was no shortage of cold beverages and tunes from everyone's favorite era. Three straight hours of rock carried us to 11 p.m. when it was time to call it a night, much to the chagrin of many show-goers shouting, "One more song!"  Hey, we get tired too and sometimes there just isn't enough gas in the ol' tank.
When all was said and done tear down wise, we started the long trek home.  A half hour in to the drive, Frankie and Dave narrowly missed TWO deer that suddenly darted out in front of the truck.  Frank's cat-like reflexes saved the day and the lives of all were spared. This actually happens a lot. Dave takes deer patrol from the shotgun position and Frank steers and scans at all times.  Show us your faces and glowing eyes.  Stupid deer.
OK, enough complaining about Wisconsin deer… let's just end this journal on a high note!  What a great (and fun) show! We appreciate all who joined us. See ya at another Cherry Pie show soon!
Photos of the Show: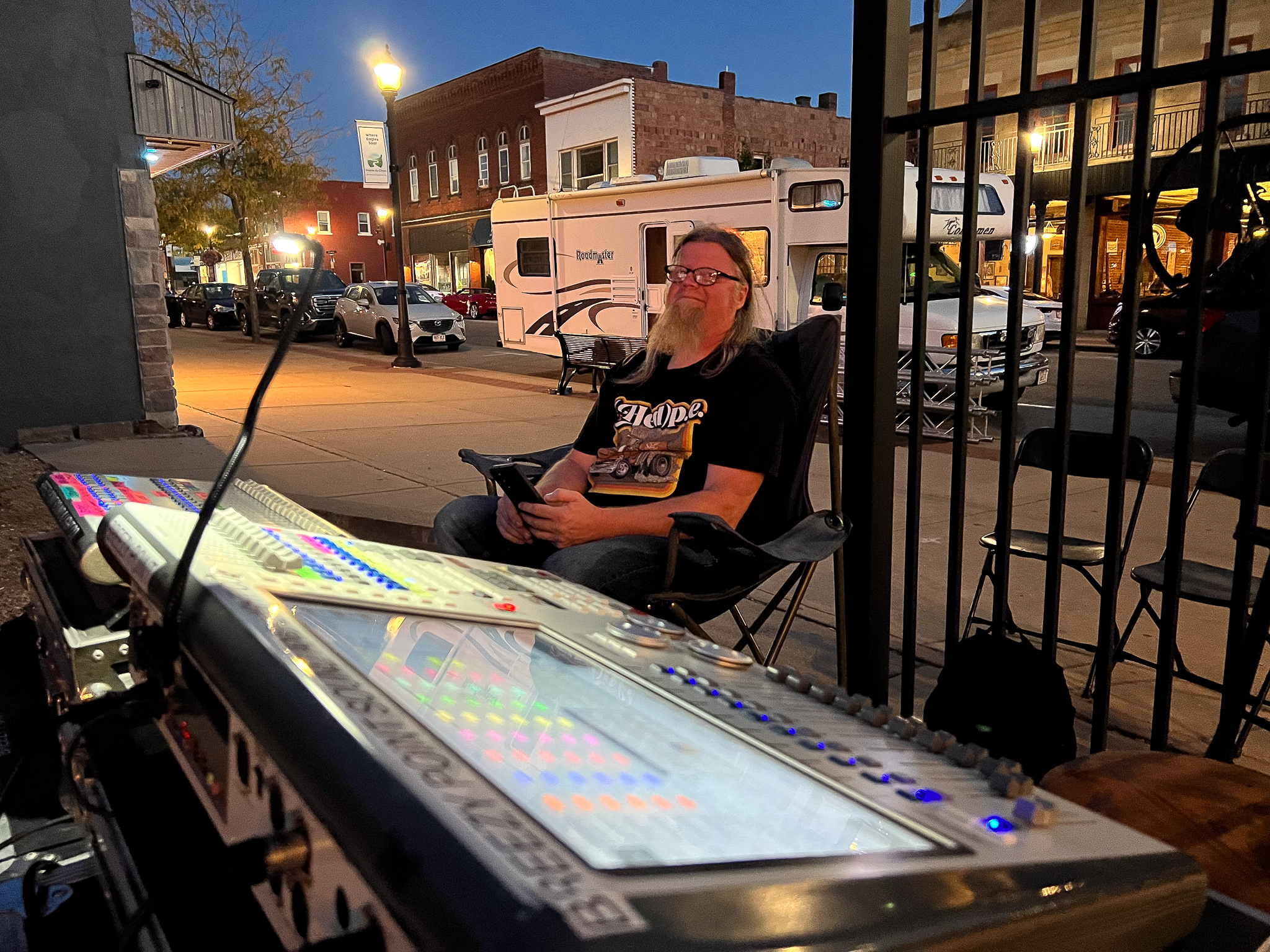 Click for Video Recap of the Show!
Production: Breezy Point Sound & Light Co.
No Crew for the show! *GASP
Setlist:
The Final Countdown -

Europe

Roll With The Changes -

REO Speedwagon

Any Way You Want It -

Journey

Sister Christian -

Night Ranger

Fat Bottom Girls -

Queen

Turn Up the Radio -

Autograph

You Give Love A Bad Name -

Bon Jovi

Animal -

Def Leppard

Rag Doll -

Aerosmith

Here I Go Again -

Whitesnake

Sweet Emotion/Dude Looks Like a Lady -

Aerosmith

Another One Bites The Dust -

Queen

My Kinda Lover -

Billy Squire

No More Mister Nice Guy -

Alice Cooper

I Love Rock N' Roll -

Joan Jett

Love In An Elevator -

Aerosmith

We're Not Gonna Take It -

Quiet Riot

Rock You Like A Hurricane -

Scorpions

Round & Round -

Ratt

Talk Dirty To Me -

Poison

The Flame -

Cheap Trick

Rebel Yell -

Billy Idol
Andy Acoustic - Wanted Dead or Alive -  Bon Jovi 
               Authority Song - John Mellencamp
               Summer of '69 - Bryan Adams
Take It On The Run -

REO Speedwagon

Tush -

ZZ TOP

Nothing But A Good Time -

Poison

Pour Some Sugar On Me -

Def Leppard

Living On A Prayer -

Bon Jovi

Separate Ways -

Journey

Jump -

Van Halen

Wind Of Change -

Scorpions

Sweet Child O' Mine -

Guns N' Roses

Back In Black -

AC/DC

Metallica Medley -

Metallica