Hello Cherry Pie family and friends!
We made our yearly mecca to the land of green and gold; gilded in the shadow of Lambeau Field and numerous Detroit Lions fans. Shouts of Go Pack Go and Let's Go Lions could be heard for miles! 
The Cherry Pie train left early in the morning… well early for us rockstars… 9:45 a.m. Sigh.
Anduzzi's on Holmgren Way was the destination for the show. We have played this venue pretty much yearly as of late and it is never any shortage of fun.  There was even sand brought in once for our show so that it could be a "beach" Packer Party.  FYI, sand and music equipment don't mix.  
Many Michigan license plates (too numerous to count) and Green Bay Packer color wearing drivers later, we rolled in to Title Town safely. 
Fast forward to 3 p.m. and SHOWTIME! Now, the Packer fans definitely outnumbered the Lions fans, however, that didn't stop anyone from having a good time. A little friendly razzing at times along with one particular shirt that read, "I'm a fan of neither team", kept everyone's spirits high. Andy even switched the lyrics to "Don't Stop Believing" to "some will win, Detroit will lose". Well insert foot into mouth because that didn't play out the way we hoped. We got our butts kicked. Boo! Happy for the Detroit fans, but sad for our beloved Packers.  Step it up guys! 
Nonetheless, fun was had by all. It was such a rockin' crowd that Anduzzi's asked us to play an additional half hour. We happily obliged. Thank you to Anduzzi's for having us back. We always appreciate the hospitality and killer venue.  
Rock on people and GO PACK GO!
PHOTOS OF THE SHOW: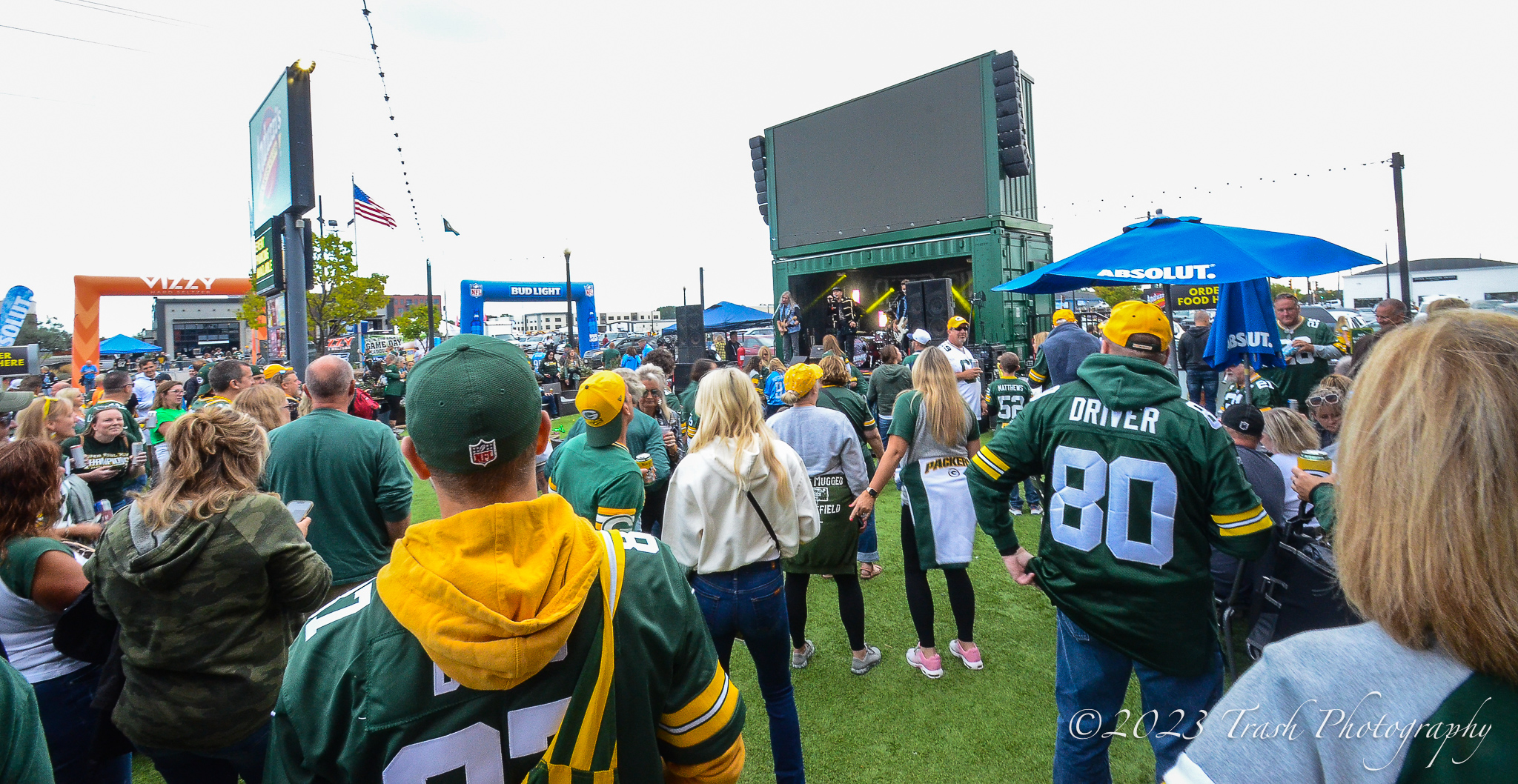 CLICK FOR THE VIDEO RECAP OF THE SHOW!
PRODUCTION: Breezy Point Sound & Light Co.
Stagehand/Merch/Photography/Videography: Amanda Trash
SETLIST:
Turn Up the Radio -

Autograph

You Give Love A Bad Name -

Bon Jovi

Animal -

Def Leppard

Rag Doll -

Aerosmith

Here I Go Again -

Whitesnake

Sweet Emotion/Dude Looks Like a Lady -

Aerosmith

Another One Bites The Dust -

Queen

My Kinda Lover -

Billy Squire

No More Mister Nice Guy -

Alice Cooper

I Love Rock N' Roll -

Joan Jett

Love In An Elevator -

Aerosmith

We're Not Gonna Take It -

Quiet Riot

Rock You Like A Hurricane -

Scorpions

Round & Round -

Ratt

Talk Dirty To Me -

Poison

The Flame -

Cheap Trick

Rebel Yell -

Billy Idol
Andy Acoustic - Wanted Dead or Alive -  Bon Jovi 
               Every Rose Has Its Thorn - Poison
               Summer of '69 - Bryan Adams
Tush -

ZZ TOP

Nothing But A Good Time -

Poison

Pour Some Sugar On Me -

Def Leppard

Living On A Prayer -

Bon Jovi

Separate Ways -

Journey

Jump -

Van Halen

The Final Countdown -

Europe

Roll With The Changes -

REO Speedwagon

Sister Christian -

Night Ranger

Fat Bottom Girls -

Queen

The Stroke -

Billy Squire

Photograph -

Def Leppard

Boys Of Summer -

Don Henley

Don't Stop Believing -

Journey

Crazy Train -

Ozzy Osbourne

Back In Black -

AC/DC

Metallica Medley -

Metallica

Take It On The Run -

REO Speedwagon

La Bamba -

Ritchie Valens

Excerpt of Highway To Hell -

AC/DC

 
Excerpt of Owner of A Lonely Heart -

YES

Sweet Child O' Mine -

Guns N' Roses